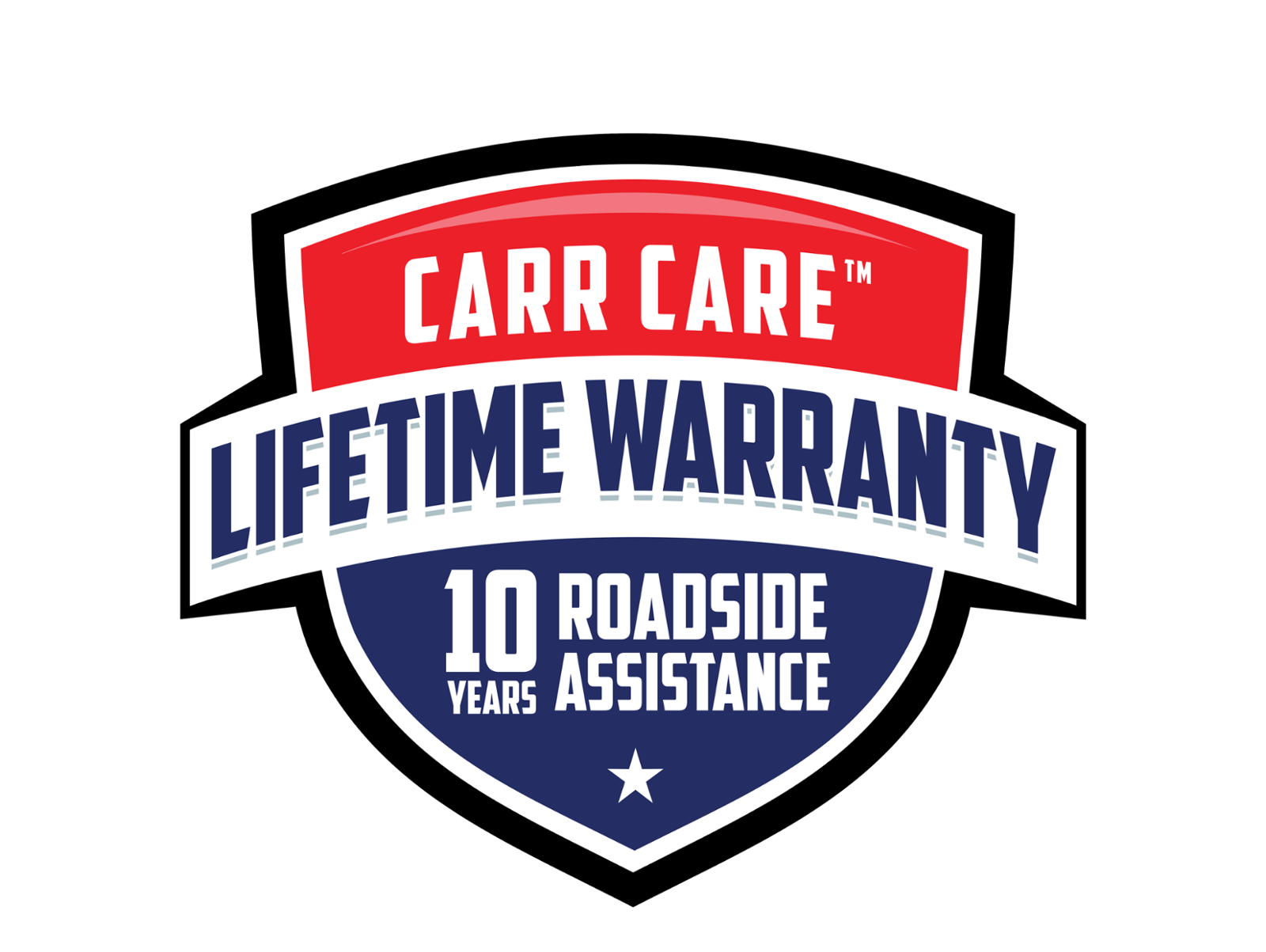 CARR AUTO GROUP

WITH YOU ALL THE WAY. EVERY MILE. EVERY DAY. 
WE'VE BUILT OUR BUSINESS SO THAT WE CAN EARN A LIFETIME OF YOURS.
When your business goal is focused on earning a customer for life, not a quarterly report, you tend to treat customers like family in terms of pricing, quality, and service.


Everyone knows that vehicles require maintenance and repair over the course of ownership. However, it is always a shock when an unexpected problem pops up, especially if it's expensive to fix. We know from experience that it's in times like these that true loyalty to a company is strengthened.


That's why Carr Auto Group provides a Lifetime Powertrain Warranty plus 10-year Roadside Assistance on nearly every new and used vehicle we sell. We also include over $2,000 of additional benefits and services (like towing and tire reimbursement) with every vehicle.


This is included at NO EXTRA COST  to you. It's peace of mind that you can rely on.  
WE BELIEVE BY INVESTING IN YOUR LOYALTY AND PEACE OF MIND, WE WILL EARN YOUR TRUST FOR LIFE. 
Why is CARR offering this?
We believe good karma is more important than good shareholder returns. That the level of service we provide shouldn't be based on how much a customer wants to spend. We live, work, and play in the same community as our customers and their families, so being a good neighbor is important to developing genuine relationships, for a lifetime. Our sincere hope is that you are so confident and comfortable with your purchase at CARR Auto Group that you will go out of your way to tell your friends, neighbors, and co-workers about your positive experience. 


What are the maintenance requirements for the lifetime powertrain warranty?
The maintenance requirements are easy, just follow the manufacturer's guidelines and you'll remain eligible for the warranty. This means you need to have regular oil changes, tire rotations and other standard maintenance items to ensure you keep your vehicle running right. Of course, we would love for you to bring your vehicle to CARR for your maintenance needs, however you are welcome to take your vehicle to any certified shop, anywhere in the country. 


If I sell my vehicle next year to a friend will the warranty transfer over to them?
The warranty does not transfer over with your vehicle once it's sold. The warranty is registered to you, as our valued customer. 


Is there a catch to the lifetime warranty?
There are no catches, gimmicks or gotchas. No crazy maintenance requirements. No limits on the geography of where you can drive. You can even choose where you have your vehicle serviced.
What will my lifetime powertrain warranty cover?
Our lifetime powertrain warranty covers components associated with the engine, transmission, transfer case and drive axle. This includes parts such as your cylinder block, valves and pistons, in addition to your oil and water pumps. On your transmission, parts like your gear sets, torque converter and bushings/bearings are all covered. In addition to this all seals and gaskets included with these powertrain components are covered.
How much does CARR CARE™ cost?
CARR CARE™ comes with nearly every New and Used vehicle CARR sells- at no additional cost to you! No gimmicks. No gotchas. CARR CARE™ is much more than simply a warranty program. Its simply about making sure you're covered for whatever happens down the road.
Is there a deductible?
Should a powertrain repair be necessary and you bring it to one of our CARR Certified Service Centers the deductible will be reduced to $100. Outside of CARR Certified Service Centers there is a very reasonable $500 deductible. You are in control of your repair options, plus the powertrain warranty and roadside service is valid throughout the US and Canada.
Does the lifetime powertrain warranty expire?
Provided you take care of your vehicle's regular maintenance, you will be covered under the lifetime powertrain warranty for as long as you own the vehicle. There's no mileage limit or expiration date.
I bought a vehicle last year from CARR, will my vehicle qualify now for CARR CARE™?
The program only applies for vehicles purchased on or after November 1, 2017.
SO, WHILE OTHER DEALERS MAY SAY THEY WANT YOUR BUSINESS, ONLY CARR AUTO GROUP REWARDS YOU FOR IT.
INCLUDES CARR CARE™ ADVANTAGE PACKAGE 
Lock-Out Reimbursements up to $50
Road Service Reimbursements up to $200
Towing Reimbursements up to $200
Tire Replacement up to $200
Trip Interruption Reimbursement up to $300
Ambulance Reimbursement up to $200
PLUS: Key & Credit Card Registration
LOYALTY REWARD DISCOUNTS
10% Off Parts & Accessories Department Purchase
Visit our Parts & Accessories Department and receive 10% off any parts or accessories at CARR Auto Group.
30 Day Pit-Stop on New Vehicles
To ensure you are off to a great start with your new vehicle, we will perform a free Pit-Stop check-up for you after 30 days. We will inspect tire wear and pressures, check all fluid levels, topping off as needed and review any product features or questions you may have.
$250 Collision Repair Discount
Our Certified Collision Center will give you a $250 Owner Loyalty coupon that can be used toward any body repair in our shop over $1,500.
15% Quick Collision Repair Discount
We will give you 15% off any minor repair under $750, like dents, scratches, and bumper repair 10% Tire Shop Discount Receive 10% off any tire and/or wheel purchase up to $250 in savings (including mounting and balancing)
No Video Source Currently Available
Make an Inquiry
* Indicates a required field
Sales Hours
Monday

Tuesday

Wednesday

Thursday

Friday

Saturday

Sunday
See All Department Hours
Dealership Hours
Monday

Tuesday

Wednesday

Thursday

Friday

Saturday

Sunday
Parts Dept. Hours
Monday

Tuesday

Wednesday

Thursday

Friday

Saturday

Sunday
Service Dept. Hours
Monday

Tuesday

Wednesday

Thursday

Friday

Saturday

Sunday